King's Country
Chapel Street at Barracks Lane
Harbour Island, Bahamas
The King's Country property on Chapel Street in Harbour Island, Bahamas was built in the 1940s and remained part of The Coral Sands Hotel until the resort was sold in 1998. The family retained five acres, and now offers two of their three charming homes for rent, with a private access path to and from the beach. Both houses are a five-minute walk to the east to the beautiful pink sand beach and a five-minute walk to the west into 400-year-old Dunmore Town.
The world-famous
pink sand beach, just minutes away.
These two lovely houses are available for weekly, monthly rentals in the middle of remarkable Harbour Island, Bahamas.
Substantial Bahamian farmhouse - 3 bed/2.5 bath located in the middle of the property offers private sundeck, landscaped patio, fully-equipped kitchen, fireplace, sunny open area, living room and dining room, tiled floors downstairs, berber carpeting on second floor. Private one-bedroom suite on ground floor with separate entrance. Outdoor barbeque. Cable television furnished, no telephone, wireless Internet access.
South House
Available as a two-or-three bedroom rental for $2,500/week,
Spacious 2-bed/2.5 bath house located at the western edge of the property. Beautifully-landscaped front patio and 360 degree views of the island from private upper deck. Harbour sunset view from kitchen window and/or upstairs deck. Marble tile floors throughout, two full bathrooms with huge tiled showers and sky roof. Outdoor barbeque, fully-equipped kitchen. Cable television furnished, no telephone, wireless Internet access.

Two-bedroom available for $2,200/week.

Five minutes' walk from sea to sea. Small private beach deck with storage area for beach chairs and umbrellas provided.

Both newly-renovated houses feature updated kitchen and bathroom amenities, all linens and fully-stocked kitchens, exceptional views of lush foliage and open space, peace and quiet. Property foreman and housekeeping available on site. Pastoral view of roosters and hens available at no extra charge.

Wireless Internet access is available throughout the property.

Cell phones can be rented for $5/day from Magolda Higgs at Higgs Rentals.

Your time away from home ... can be as secluded or social as you wish.

-- Google Earth(TM) showcases Kings Country's central and sheltered location on Harbour Island (Dunmore Beach Club on the southern border, Coral Sands Hotel on the eastern border, St. John's Church parsonage to the west and Chapel Street to the north) --
Any other questions?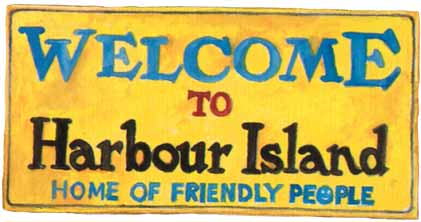 Rentals & Sales

ISLAND REAL ESTATE

1-242-333-2278




SHARON KING
1-954-763-1527
Contact us ...