'With God and patience you can achieve anything in life." -- Rose Hudson
The Bluff Community Library,
Home Work & Computer Center
Rose Hudson, local government council
Briland Modem Fund, private sector partners
Monique Fife and Coderro Johnson, managers
The Old Batelco Building - Bluff, Eleuthera (Bahamas)
The library in progress ...
The community computer centre in active use ...
Computer science programs for students and young adults
Word-processing, Excel, Publisher (Microsoft Office)
Reading classes
Music classes are coming soon ...
Homework assistance

"Our mission is to see every child in North Eleuthera have the ability to read, write, and master a computer," notes Rose Hudson, local government liaison at Bluff Community Computer Center. Programs are offered free of charge to students (adults pay $5 for 3 hours of Internet access), and the centre is open Monday to Saturday, 4-6 p.m.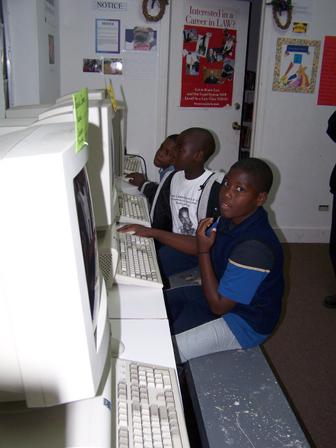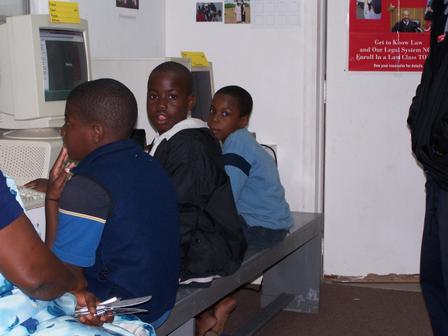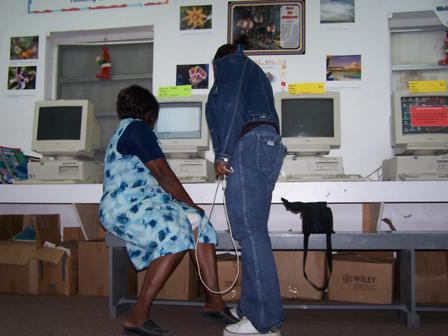 Training in session Rosie Hudson, Monique Fife confer
The innovative tech support team in action ...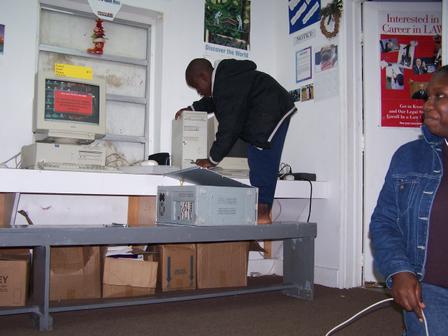 Testing ...
"Hey, look ... it works now!"
Coderro Johnson, manager Monique Fife, manager
BCCC thanks:
North Eleuthera Local Government Council
Rotary Club East Nassau - books, computers
Briland.com - News & Information, North Eleuthera
Bill Everett, ZanyFish - books, computers
Daybreak Eleuthera - hardware, software transportation
Karla Cosgriff, Island School - computers
Ministry of Tourism (Raymond Harrison) - hardware installation
BriPhi (Nicholas Johnson, Letario Higgs) - tech support
Cardo Johnson - tech support
Rahim Johnson - tech support
Tracy Neely - centre coordination and launch (2000)
Frederick "Fine Threads" Neely - human transportation
For more information, or for details on how to set up a community computer centre in your Out Island community